Sig Sauer ROMEO5 1x20mm Red Dot Sight SOR52001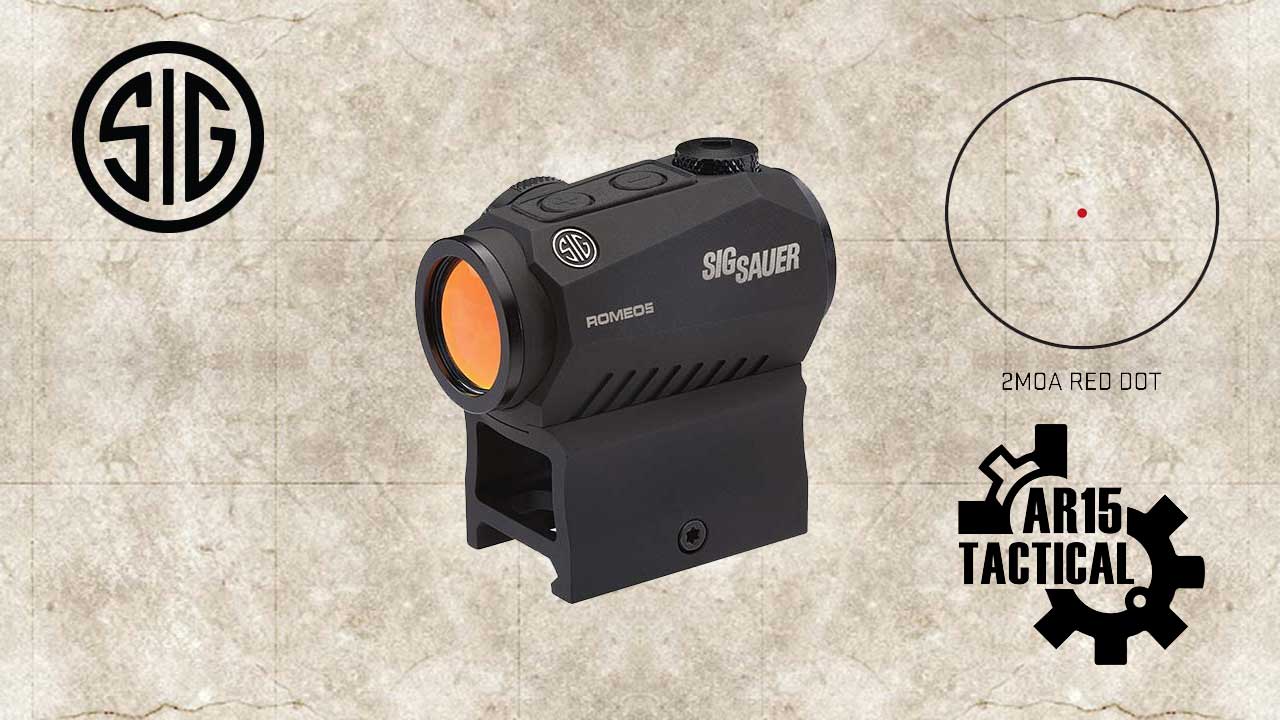 ROMEO5 1x20 mm Red Dot Sight 2MOA
Robust, compact red dot sight with 1x aiming solution optimized for today's MSR rifles, AR-15, shotguns, carbines, sub-machine guns, and full-sized handguns.
The Sig Sauer ROMEO5 features the MOTAC™ (Motion Activated Illumination) which increases battery life by shutting down the system when not in use and instantly activates the system when it senses the slightest vibration or movement. Your sight will be up when you go into action. The ROMEO5 will mount on any platform and the solid aluminum design will give peak performance and years of service. SKU: 52574, UPC: 798681553396, MFR#: SOR52001
Download: Sig Sauer ROMEO5 Users Manual
Check Prices at Palmetto State Armory, Brownells, Primary Arms, Optics Planet, Amazon
SIG SAUER ROMEO5

Sig Sauer ROMEO5 1X20mm compact red dot sights provide civilians and armed professionals a robust 1x aiming solution for any situation. Ultra-low parallax, so point-of-aim is point-of-impact, and the red dot remains parallel to the bore of your firearm, no matter what your viewing angle is relative to the optical axis of the sight. Unlimited eye-relief allows you to acquire the aiming point and the target regardless of the position of your eye behind the sight. The readily available CR2032 battery is side-loading, allowing for quick battery replacement (featuring 40,000+ hours or more of life): dependable waterproof (IPX-7 rated for complete water immersion up to 1 atmosphere) and fog-proof performance.
SIG SAUER ROMEO5 FEATURES
2 MOA Red-Dot provides ten illumination settings (8 daylight plus 2 NV) for visibility in all light conditions

MOTAC™ (Motion Activated Illumination) powers up when it senses motion and powers down when it does not. Provides for optimum operational safety and enhanced 40,000+ hour battery life

Integrated M1913 Picatinny interface provides industry-standard mounting options for a wide range of applications

Dependable waterproof (IPX-7 rated for complete water immersion up to 1 meter) and fog-proof performance

Includes an M1913 Picatinny low mount riser and a co-witness 1.41" riser mount
SIG SAUER ROMEO5 SPECIFICATIONS
Model: ROMEO5
Magnification: 1x
Objective Diameter: 20mm
Eye Relief: Unlimited
Dot Size: 2 MOA Red Dot
Elevation Adjustment Range: +/- 40 MOA
Windage Adjustment Range: +/- 40 MOA
Illumination: 8 Daytime / 2NV
Battery Type: One (1) CR2032
Battery LIfe: 450 hours (on highest setting)
Weight: 5.10 ounces
Length: 2.47 inches
Width: 1.50 inches
Height: 1.52 inches