AR 15 LOWER PARTS KIT REFERENCE
Mil Spec AR-15 Lower Parts Kits
The AR 15 Lower Parts Kit or as it's better known acronym "LPK" is necessity when building your own AR from an 80% or stripped AR lower. The standard mil-spec Lower Parts Kit typically consists of 32 small parts. These parts make up the trigger, safety, magazine catch/release, pivot pin, bolt catch, pistol grip etc. Basically everything you need to finish the AR lower except for the buttstock and recoil system.
These LPK's are great for getting your AR-15 up and running and as spare parts. It's important to note that the triggers included in these kits are the same heavy pull triggers that ship with a majority of factory AR 15 rifles and are simply meant to get your rifle to go "bang". The pistol grips are nothing special and the same grips that have been used for decades on the M16, M4 and AR-15.
You might find the more time you spend working on AR's the more "extra" lower parts you end up with. My own experience has lead me to purchase a small Durham brand part# 107-95-IND compartmentalized storage box for the sole purpose of organizing lower parts. I am at the point where unless there's a bargain I only the exact parts I need from Brownells and I maintain an inventory in my storage box. Tip it's sometimes easiest to locate these parts by starting at Brownells schematic pages for Colt AR & Sporter and DPMS Rifles.
Front Pivot Pin
Front Pivot Pin Detent
Front Pivot Pin Spring
Rear Takedown Pin
Rear Takedown Pin Detent
Rear Takedown Pin Spring
Magazine Catch
Magazine Catch Button
Magazine Catch Spring
Safety
Safety Detent
Safety Detent Spring
Buffer Retainer
Buffer Retainer Spring
Trigger Guard
Trigger Guard Pin
A2 Pistol Grip
Pistol Grip Screw
Pistol Grip Lock Washer
Hammer
Hammer Spring
Hammer Pin
Trigger
Trigger Spring
Trigger Pin
Disconnector
Disconnector Spring
Bolt Catch
Bolt Catch Buffer
Bolt Catch Roll Pin
Bolt Catch Spring
Tools Needed to Build an AR 15 Lower Receiver
While it's quite possible to Assemble an AR Lower Receiver with tools you have on hand, the experience can be frustrating with a less than desirable outcome. There are tools that absolutely make the task of assembling a mil spec lower much easier. Non mil spec lowers might lessen the need for special tools or require their own unique tools. Avoid buying import knock off tools. That will just create a whole new set of problems. In addition to tools it's also advisable to have some grease on hand for lubricating pins and painters masking tape for protecting the lowers finish. Check out the Brownells AR Videos on the topic, they cover tools and  instruction. There are tool examples below. 
Mil Spec AR-15 Lower Parts Kit Examples
These are the kits discussed at the top of the page. I have bought a lot of LPK's in my nearly 30 years of dealing with AR's and while some of the parts seem to all come from the same factory I have seen quality differences of roll pins, detents and take-down pins. The higher quality roll pins are easier to install and fit better, the higher quality detents operate smoother. I have had take-down pins that are simply too tight.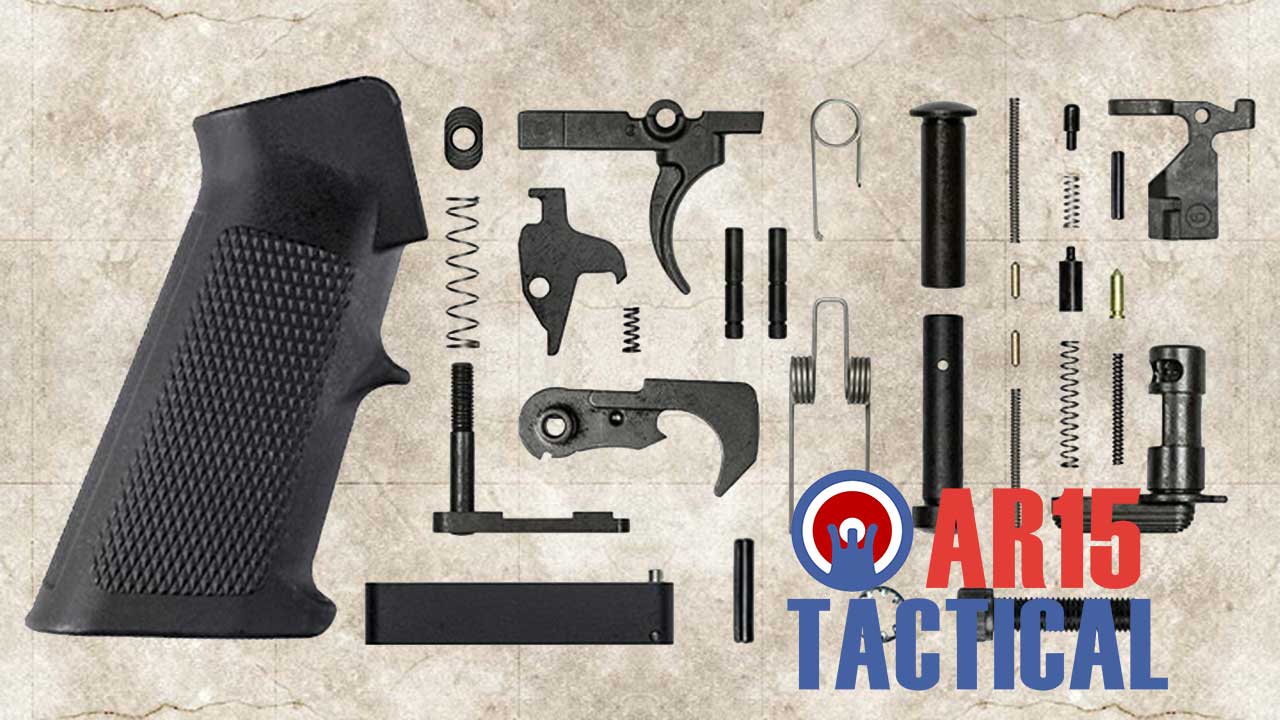 Mil Spec AR-15 Lower Parts Kits
As stated above I have experienced quality differences among some lower parts kits. There was a time when
Armalite
was my go to brand but since the company changed hands I have not purchased a lower parts kit from them. Below is a list of a few that I recommend.
AR-15 Lower Parts Kit Less Trigger and Pistol Grip
If you are like me why pay for a pistol grip and trigger that is of no value. These AR 15 Lower Parts Kits omit the fire control group and pistol grip hardware.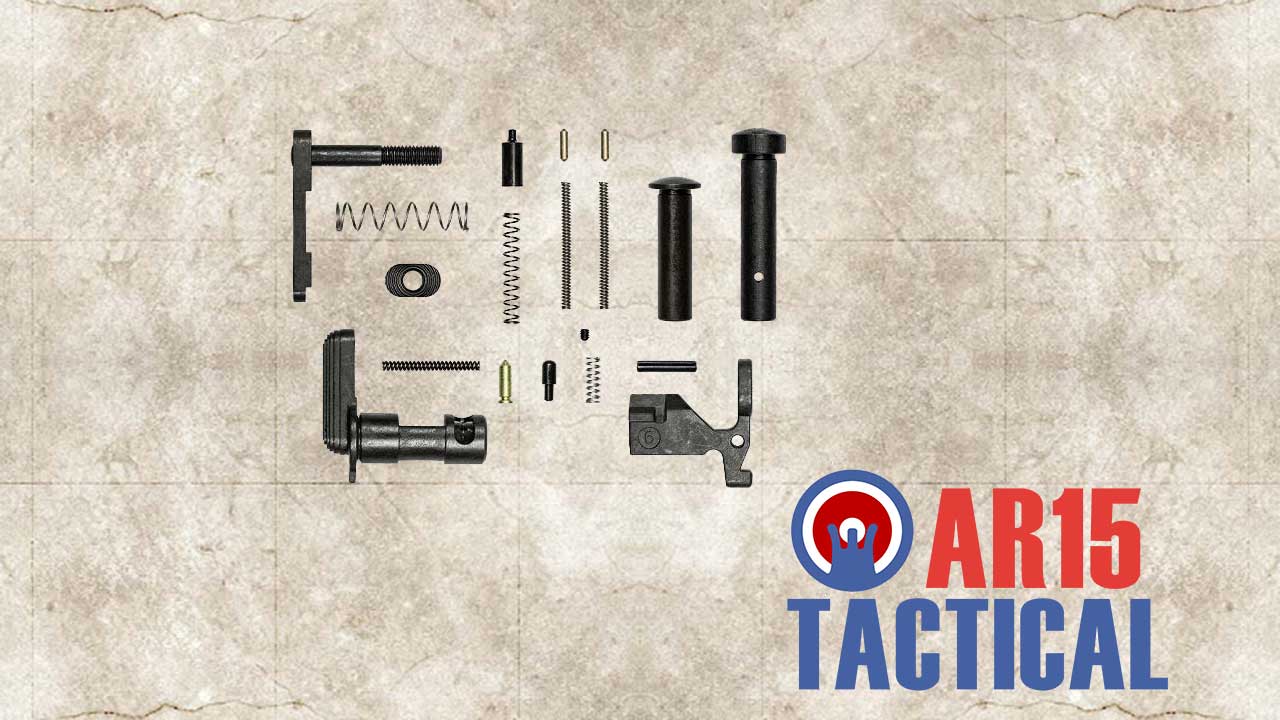 AR 15 Lower Parts Kit Minus FCG Pistol Grip
The
AR 15 Lower Parts Kit Minus Fire Control Group and Pistol Grip
is my prefered LPK. This allows me to save a few bucks and put it towards one of my prefered
AR 15 Triggers
and
Pistol Grips
. The same brands listed above would still be my preference in this category.
AR-15 Lower Parts Kit with Premium Trigger Upgrade
These AR 15 Lower Parts Kits feature an upgraded trigger and may or may not include the pistol grip. Armalite once dominated this area by including their respectable 2-stage trigger. There are better options available today. AR-15 Lower Parts Kit Complete with Buttstock and Recoil Hardware
These AR-15 Lower Parts Kits are for the shooter who wants their LPK to include a buttstock, buffer tube, recoil spring, recoil buffer, castle nut and in some cases an upgraded pistol grip.