AR-15 FLUTED BARREL | FLUTED AR-15 BARRELS
What's an AR-15 Fluted  Barrel?
What's a fluted AR-15 barrel? – A fluted barrel is a firearm barrel that typically has grooves or valleys machined down the length of a barrel. Fluted barrels are used on rifles and handguns. They are not limited to the AR-15 platform.
What's the purpose of a fluted barrel?
Their are two main purposes for a fluted barrel. The barrel flutes provide a weight reduction relative to the material removed in the fluting process. The flutes also increase the surface area of the rifle barrel. The increased surface area improves the barrels ability to remain cool. Often fluted barrels are selected for cosmetic purposes. The cooling and weight reduction are bonuses.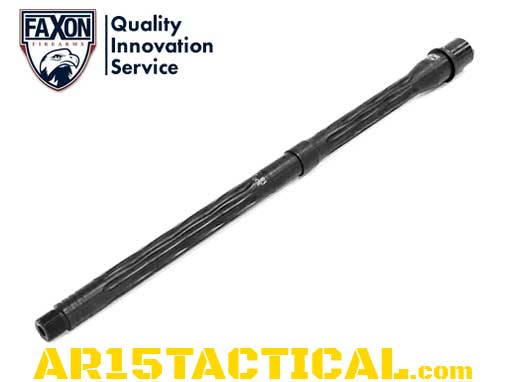 Quality is imbued into these barrels from the start. Starting with top quality 416-R Stainless each barrel goes through a battery of tests at each operation until finished in Nitride and final inspected. All barrels are individually checked for headspace by precision custom hardened gauges.
Faxon manufactures all their barrels in Cincinnati, Ohio under ISO:9001 and AS:9100  quality certifications.
Barrel Material: 416-R Stainless
Barrel Type: Button Rifled
Barrel Caliber: 300 BLK
Barrel Twist: 1:8
Barrel Length: 16″
Barrel Profile: Variable Depth "Flame" Fluted
Barrel Gas System: Carbine
FAXON FIREARMS AR-15 .223 300 BLACKOUT FLAME FLUTED BARREL
FAXON FIREARMS AR-15 .223 300 BLACKOUT FLAME FLUTED BARREL
FAXON FIREARMS AR-15 .223 300 BLACKOUT FLAME FLUTED BARREL improved with QPQ and with stainless accuracy. Variable-depth fluting gives the barrel fantastic performance and an unmistakable look.
Faxon Firearms barrels are the pinnacle of value. Manufactured 100% in-house from cradle-to-grave, these barrels are fully stress relieved, air-gauge tested, and 11 degree target crowned to ensure superior accuracy. Faxon offers the fluted barrels in .223/5.56 and 300 Blackout calibers.
Inside Finish: QPQ Black Nitride
Outside Finish: QPQ Black Nitride
Muzzle Thread: 5/8 x 24 TPI (Threads Per Inch)
Gas Block Diameter: .750″
Gas Port Diameter: .110″
Gas Block Journal Length: 1.1″
Barrel Extension: M4
Barrel Weight: ~1.53 Lbs
Magnetic Particle Inspected!
11-degree Target Crown
Gas Block Journal Length: 1.9″
AR-15 FLUTED BARREL | FLUTED AR-15 BARREL
CRITERION BARRELS INC FLUTED AR-15 RIFLE BARRELS
CRITERION BARRELS INC AR-15 FLUTED RIFLE BARREL
When the added velocity of a longer barrel needs to be preserved, but the desire for additional weight reduction remains, barrel fluting serves as an excellent solution to help shave away unwanted bulk. Criterion fluted AR-15 barrels are designed to ensure maximum concentricity and consistent dimensions throughout the full length of the bore. Eight flutes are machined around the circumference of the barrel to the front and rear of the gas port. Each flute is polished to smooth jagged edges while retaining a sharp appearance.  Each 416R stainless steel barrel comes complete with an M4 barrel extension and a .223 Wylde chamber designed to accept both .223 Remington and 5.56 NATO cartridges.
Criterion does business a little differently. Some barrels they sell factory direct while others are retailer exclusive. There is almost no competitive overlap. These fluted barrels are a Brownells exclusive.
AR-15 FLTED BARREL | FLUTED AR-15 BARREL
.223 Wylde
.223 Wylde is a hybrid .223/5.56 chamber designed by Bill Wylde to yield the accuracy advantages of the match .223 Remington commercial chambering but without pressure or reliability failures when using high velocity 5.56 NATO spec ammunition. The .223 Wylde achieves better accuracy by having a chamber throat that is tighter than 5.56 but will still function reliably with military 5.56 ammunition as the case dimensions are the same.
WILSON COMBAT AR-15/M16 .223 WYLDE SUPER SNIPER 20" MATCH GRADE FLUTED AR-15 RIFLE BARREL
WILSON COMBAT AR-15/M16 .223 WYLDE SUPER SNIPER 20″ MATCH GRADE FLUTED AR-15 RIFLE BARREL
All Wilson Combat Match Grade Fluted AR-15 barrels are precisely crafted of the finest American-made 416R rifle rated steel on computer controlled equipment to our exacting list of technical specifications. These proven barrels feature a hand-polished bore and feedramps and then complete a rigorous final inspection process that ensures your new barrel will meet your most demanding expectations. All barrels feature crisp CNC markings, precision muzzle crown and a chamber and gas port optimized for reliability.
Chamber: .223 Wylde
Feed Ramps: M4 Style
Finish: Matte Bead-Blasted Stainless
Gas Block Seat: .938″ Diameter by 1.940″ Length – Dimpled for Set Screw
Gas System: Rifle Length
Length: 20″
Material: Stainless Steel, Type 416R, Barrel Grade
Muzzle Threads: None
Profile: Super Sniper – Fluted
Rifling: 1:8, RH, Six Groove, Precision Button Rifling
Weight: 57 oz.