Build a 45 ACP AR 15
OLYMPIC ARMS 45 ACP AR 15 Project
---
OLYMPIC ARMS PRE BAN AR-15 LOWER | 45 acp AR 15 LOWER RECEIVER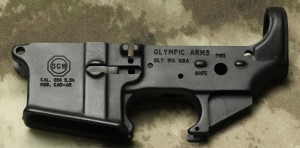 My home state has an ASSAULT WEAPONS BAN. In order to have a collapsible stock and a silencer I need to utilize an AR15 LOWER RECEIVER that is not banned by name and was manufactured before the ASSAULT WEAPONS BAN was implemented. I was lucky to track down a brand new PREBAN OLYMPIC ARMS LOWER RECEIVER manufactured in 1992.
---
OLYMPIC ARMS 45 ACP AR-15 UPPER RECEIVER
There are not many manufacturers offering .45 acp AR 15 rifles and parts. Olympic Arms was the clear and easy choice.
---
GEISSELE SSA TRIGGER AR-15
The GEISSELE AUTOMATICS SSA TRIGGER has the reputation as the finest non adjustable combat trigger for the AR15 and M4 platforms. The is a TWO STAGE TRIGGER with a combined pull weight of 4.5#. Those seeking a lighter pull can purchase the "ENHANCED" version the GEISSELE AUTOMATICS SSA-E TRIGGER.
From GEISSELE AUTOMATICS:
The Geissele Super Semi-Automatic (SSA®) trigger is a semi-automatic-only version of Geissele Automatics's Super Select-Fire trigger. The SSA is a non-adjustable combat trigger that performs like a match-grade two-stage trigger and allows precise and accurate trigger control. It is recommended for demanding applications such as Squad Designated Marksman (SDM) rifles, Law Enforcement use, and Close Quarters Battle (CQB) and mid-range carbine work.
Someone at Brownells did a superb job of describing the trigger and it's functionality.
Super Semi-Automatic (SSA) 2-stage combat trigger has a fixed 4½ lb. total pull weight, non-adjustable sear engagement, and additional safety features ideal for CQB and mid-range carbine work. A secondary "safety sear" captures the hammer if the primary sear accidentally releases due to hard impact, ensuring the rifle can fire only when the shooter actually pulls the trigger. Trigger pull is optimized for both deliberate, aimed fire and quick, "snap shooting." The first stage builds gradually to 2½ lbs., with a 2 lb. second stage that breaks clean, so the shooter can stay on target throughout the pull. A lightweight hammer driven by a full-power hammer spring speeds locktime and delivers positive ignition of all ammo types. All contact surfaces are wire-EDM cut to exact dimensions for precise engagement free of play.

Direct replacement for factory trigger; may be installed without removing the safety. Operation and parts layout is similar to the USGI M16 trigger for easy maintenance. All springs are captive to simplify field disassembly for cleaning. Hammer and trigger pins are a close slip-fit in nominal .154″ (small pin) mil-spec receiver holes to enable installation with basic tools. Super Semi-Automatic-Enhanced (SSA-E) offers an even lighter, 3½ lb. total pull weight, making it an excellent choice for precision Squad Designated Marksman type rifles where both accuracy and reliability are critical. First stage builds gradually to 2.3 lbs., followed by a 1.2 lb. second stage with a crisp, "candy cane-like" break. A semi-auto-only version of the Geissele full-auto combat trigger presently used in the U.S. Special Operations community.
Download the GEISSELE AUTOMATICS SSA SALES Flyer  GEISSELE AUTOMATICS SSA SALES FLYER
Download the GEISSELE AUTOMATICS SSA AR15 TRIGGER Installation Instructions GEISSELE AUTOMATICS SSA INSTALLATION INSTRUCTIONS
---
BATTLE ARMS DEVELOPMENT COMBAT AMBIDEXTROUS SAFETY BAD C.A.S.S
The Battle Arms Development Combat Ambidextrous Safety Selector or BAD C.A.S.S is perfection with regards to an ambi safety for the weapon platform. It's rare that the design and function of a product leave little or no room for improvement. For me the BAD C.A.S.S is as good as it gets.
---
MAGPUL MOE + FLAT DARK EARTH PISTOL GRIP
The MAGPUL MOE+ Grip has become my "Go To"  pistol grip in recent months. The MAGPUL MOE+ Grip combines reinforced polymer body construction with comfortable, wrap-around rubber overmolding for maximum weapon control in adverse environments. With a similar shape to a 'medium' sized MAGPUL MIAD, this AR15/M16 drop-in design features a hard-polymer bottom edge to reduce the possibility of equipment snags or grip damage. The MAGPUL MOE+ Grip accepts optional storage cores for gear stowage and includes a basic grip cap.
---
MAGPUL MOE FLAT DARK EARTH CARBINE HANDGUARD
The MAGPUL MOE HANDGUARD is what I select when form and function meet economics. Given that the .45acp AR15 wont benefit much from a FREE FLOAT HANDGUARD why spend the money? The MAGPUL MOE HANDGUARD is light weight, ergonomic and looks great. It is a great alternative to the A2 handguard. The MAGPUL MOE HANDGUARD also accepts MAGPUL MOE PICATINNEY RAILS for those who wish to mount aftermarket accessories such as tactical lights and lasers.
---
HEAVY BUFFERS .45 ACP AR-15 BUFFER AND WOLF XP CARBINE SPRING
The .45acp cartridge can punish an AR15 lower due to its blowback design. The best way to address this is to tame the recoil system with a .45acp buffer from Slash at HEAVY BUFFERS. To give you an idea at the mass difference between the .45acp heavy buffer and a standard carbine buffer look at the image below.
---
AR-15 CHARGING HANDLE
For now I will stick with the AR-15 CHARGING HANDLE that OLYMPIC ARMS included with my .45 acp AR-15 UPPER RECEIVER
---
KNS GENERATION 2 ANTI ROTATION TRIGGER PINS
This 45 ACP AR-15 is of blowback design and is said to be tough on lower receivers without proper precautions. One of the areas that needs attention is the hammer and trigger pins. The inclusion of the KNS GEN 2 ANTI-ROTATION HAMMER and TRIGGER PINS is an absolute must for this project.
---
MAGPUL CTR RIFLESTOCK FLAT DARK EARTH FDE
The MAGPUL CTR stock is a perfect fit for this project. The MAGPUL CTR is comfortable, well made and priced well at around $75. I chose the FLAT DARK EARTH FDE version to color match the our other furniture choices.
---
ARMALITE AR-15 LOWER PARTS KIT
I have to prefer the ARMALITE LOWER PARTS KITS above all others for a few reasons. First off they are available in several configurations including without a trigger or with many quality triggers. Beyond the choices I like the bolt catch as it is a little different from others and I like that the surface is deeply grooved. Lastly the parts and pins seem to fit better and are more consistent. Roll pins install "Just Right" and with no surprises.
---
ARMALITE AR-15 MILSPEC STOCK EXTENSION TUBE
Armalite had stock of the MILSPEC STOCK EXTENSION TUBE when I ordered the LOWER PARTS KIT. I have also come to trust ARMALITE parts over some others out there.
---
OLYMPIC ARMS 45 ACP AR 15 MAGAZINES
The OLYMPIC ARMS 45 acp AR 15 18 ROUND MAGAZINE is the only option for my chosen UPPER RECEIVER.
---
MISCELLANEOUS AR-15 RIFLE PARTS
---
AIMPOINT PRO PATROL RIFLE OPTIC
I have been anxious to get my hands on the AIMPOINT PRO PATROL RIFLE OPTIC since it was announced earlier this year.
Here is the product information:
The Aimpoint PRO (Patrol Rifle Optic) was designed with the input of current and former professionals to create the most dynamic Red Dot sight available. Featuring band-pass lens coating, the PRO is compatible with every generation of night vision devices and provides a crystal clear 1x image for quick target acquisition in close quarter situations. The modular QRP2 mount securely attaches to standard picatinny rails and includes a removable spacer that provides optimal height for co-witness with iron sights on carbine style weapons. Additionally, the QRP2 incorporates a torque limiting knob to completely eliminate over tightening.
You won't need to worry about turning the battery on and off with the PRO. The 3-year battery life allows you to turn the unit on out of the box and leave it on for an always ready sight. Other features include a see through ocular lens cap and standard objective flip-up lens cap that are both recessed to prevent impact damage, a rugged 30mm tube, threaded objective bell for use of ARD (Anti-Reflective Device), 4 Night vision settings and 6 daylight settings, battery and adjustment cap retainers to prevent them from being lost in the field.
Aimpoint Patrol Rifle Optic Unique Features

Always ready – always on. Turn it on for up to 3 years using one single battery. No need to fumble with switches prior to use.
2 minute of angle red dot for accurate target engagement at all distances.
In service date and battery change date reminders makes inventory tracking and maintenance easy.
Enhanced speed on target and increased first shot hit probability when compared to iron sights and magnified scopes.
Compatible with all generations of night vision devices and may be used with Aimpoint 3X Magnifier and Concealed Engagement unit.
Hard anodized aluminum alloy housing. Rugged enough for real world conditions and waterproof to 150 feet.
Threaded front lens opening allows use of screw-in anti-reflection device (ARD).
Front and rear flip covers keep lenses clean.
Transparent rear flip cover allows use of the sight (with both eyes open) even with both covers closed in an emergency.
Battery and adjustment cap retainer straps means you will never lose your pieces.
Modular mount set up for use on flat-top AR15, M4 Carbine and M16 rifles.
Removable spacer. Remove for use on shotguns and sub-guns.
QRP2 rail grabber mount. Snap knob three times for a perfect mount. Will not deform your rail like many other mounts.
Recessed lens openings helps prevent against impact damage, fingerprints and scratches.
---
TROY INDUSTRIES FLIP UP FRONT BATTLESIGHT TRITIUM M4 GAS BLOCK MOUNTED  FDE SSIG-GBF-0MFT-01
TROY BATTLESIGHT FDE SSIG-GBF-0MFT-01
---
TROY INDUSTRIES FLIP UP BATTLESIGHT REAR TRITIUM FDE SSIG-FBS-RTFT-0
TROY INDUSTRIES FLIP UP BATTLESIGHT REAR TRITIUM FDE SSIG-FBS-RTFT-0
---
YHM-9923-24 45 QD FLASH HIDER
Due in part to the fact that there are not a lot of choices in silencers for SMG's which use the same calibers as this 45 ACP AR-15 project I decided to go with YHM Wraith Silencers. The YHM Wraiths seem most readily available. This selection requires I utilize the YHM QD Flash Hider for this project
---
YANKEE HILL MACHINE .45ACP QD WRAITH SUPPRESSOR
Not many readily available options for SMG SILENCERS/SOUND SUPPRESSORS. It only took 6 months for YHM to get the .45 Wraith in the hands of my class III dealer.
---
---