Introduction
March 1, 2020 Update: This page is undergoing a massive and long overdue update. A lot has changed since this page was published in its original version back in April 2008.
There is no way around it; if you desire to service, maintain, and build AR 15's, you will need some tools. Some of the tools required are standard hand tools that you may already own while other necessary tools are very specialized and designed for specific tasks. When working on an ar15, some tools turn a complicated operation into a simple task. Below we will look at these tools and give a brief description of their use and why I suggest it.
Basic & General Gunsmithing Tools
Basic Tools
Safety Glasses
Nylon & Brass Tip Hammer
Ball Pein Hammer
Punch Set
Hex Key Wrench Set – Folding and individual
Torque Wrench
Strap Wrench
Dental Tools – Tooth brushes and picking tools
TAPE
Lubricants
General Gunsmithing Tools
AR 15 Specific Tools
AR 15 Upper Receiver Tools
AR 15 Lower Receiver Tools
Geissele Reaction Block – The Geissele Reaction Block is designed to aid in the assembly of lower receivers. Once the armorer has installed the buffer tube, the lower receiver can then be slid into the Reaction Block at the 12, 3, 6 and 9 o'clock positions. Allowing the armorer to rotate the lower in 90° increments in the block simply by loosening the provided nylon screws, removing the lower and sliding it back in at its desired orientation. The Reaction Block provides an ultra-stable platform for performing an array of lower receiver operations, as well as making the installation of the buffer retainer nut quick and easy. All while keeping both hands of the armorer free to work, saving both time and frustration.
Lower Receiver Block –
Pivot Pin Installation Tool –
Barrel Tools –
Buttock Installation Tools –
Barrel Nut and Action Wrenches –
Handguard Wrenches –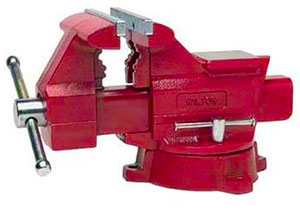 Bench Vise and Vise Accessories
A BENCH VISE is a must when servicing, maintaining, and building an AR-15 RIFLE. The bench vise will serve as an extra set of hands while you wrestle with springs and roll pins. You are also much less likely to damage your AR15 while it's secured in a bench vise.
Being an apartment dweller, I have to take an unconventional approach to work on my firearms. In the case of the bench vise, I don't have a workbench, so I am either forced to bring my hardware to the day job or work from my coffee table. I prefer the coffee table. To that end, I purchased a 41-pound WILTON 11128 6-1/2-Inch STEEL UTILITY VISE (also known as Wilton part numbers 28820, 676U, 11128, 676) and mounted it to a homemade wooden platform. The platform is about two feet wide and eighteen inches deep and two inches thick. This platform is sized to fit precisely on its storage shelf. The bench vise is mounted to allow handle clearance when the vise is fully closed. When I get a chance, I will upload a picture.
Using the vise in this manner with this heavy BENCH VISE and platform allows me to perform any task except tightening a barrel nut. When tightening a barrel nut, I clamp the base to a table or equally substantial support. Alternatively, I stick a pipe in the lower vise jaws meant for a round object and apply force in the opposite direction as the barrel nut tightening operation. Both methods work well.
Vise Accessories
Barrel Vise Jaws –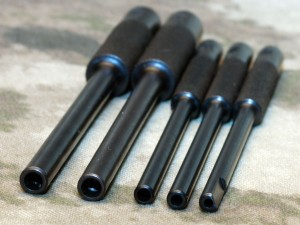 AR 15 Punches
One of my pet peeves from folks who assemble their AR15 rifles is the sloppy installation of the various roll pins the AR 15 rifle requires. In all fairness, there are a few roll pins that present a challenge to the inexperienced and experienced alike. The BOLT CATCH ROLL PIN comes to mind as does the FORWARD ASSIST ROLL PIN. The BOLT CATCH ROLL PIN is positioned quite close to the body of the LOWER RECEIVER and requires a ROLL PIN PUNCH to have a flat side to install correctly.
I have searched the internet shooting forums and websites as well as polled users of my forums for a better way to install roll pins. In that search, I found some creative approaches, but nothing that worked any better than my method of taping a ROLL PIN to a ROLL PIN PUNCH. Well, that was then this is now. Brownell offers a ROLL PIN STARTER SET they refer to as ROLL PIN HOLDERS. The pins are available individually or as a set for just under $50. I opted for the complete set.

BROWNELLS AR 15 ROLL PIN HOLDER OPERATION:
The roll pin holders are genius. As seen in the image above, the ROLL PIN HOLDERS are simply a punch that has a hollow tip the diameter of a given roll pin. Place the ROLL PIN in the correct ROLL PIN PUNCH HOLDER and with a plastic faced or brass hammer carefully tap in the ROLL PIN. To prevent damage to the WEAPON, stop hammering before the ROLL PIN HOLDER contacts the part that accepting the ROLL PIN. At that point, switch to a regular ROLL PIN PUNCH, the type with a half-round nose, and finish driving the ROLL PIN flush.
NOTES ON ROLL PIN HOLDER USE:
Cover any part of your weapon with masking tape followed by a layer of duct tape in any area that could be damaged from ROLL PIN INSTALLATION. The duct tape serves as a great protector for your weapon. The underlying masking tape makes duct tape removal a simple process.
Grease – I like to apply a small amount of grease in the ROLL PIN HOLE to help with proper installation. I also add a small amount of grease to the inside of the ROLL PIN HOLDER to help prevent the ROLL PIN from falling out and getting lost should I have a brain lapse.
For finishing the BOLT CATCH ROLL PIN INSTALLATION I suggest the BOLT CATCH PIN PUNCH from Brownells. It is almost entirely flat on one side, making installing the BOLT CATCH ROLL PIN the rest of the way a breeze.