Milazzo-Krieger M-K IIA3 Trigger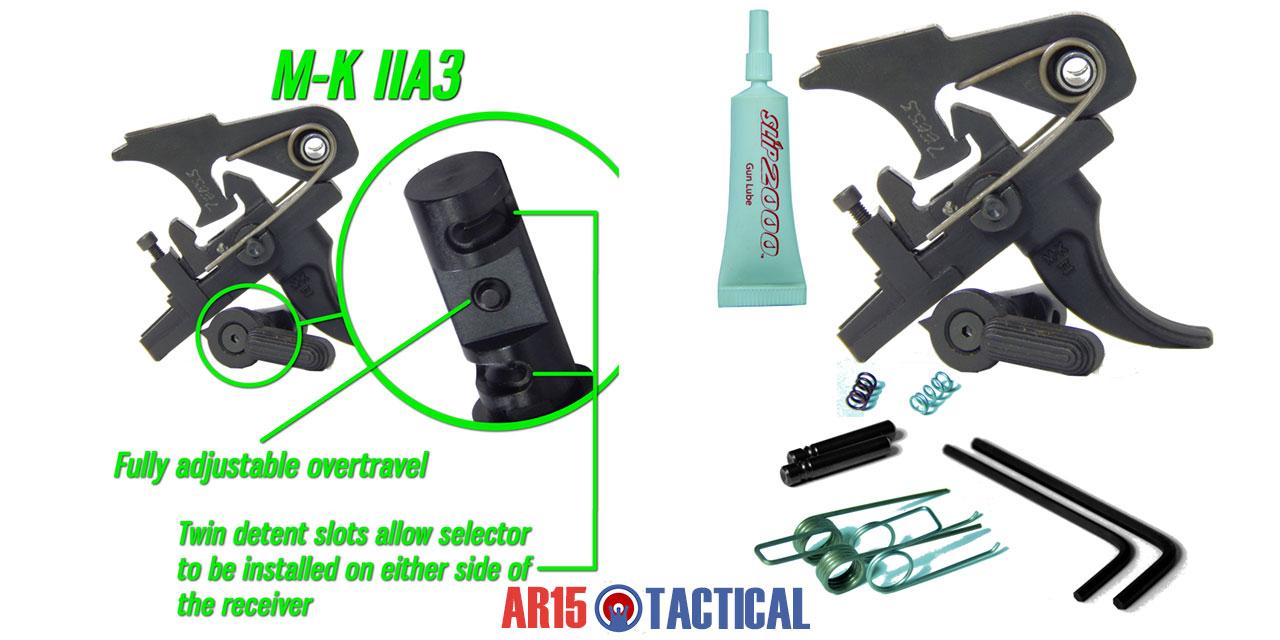 Milazzo-Krieger M-K IIA3 AR Trigger
Back in the day if you shot an AR-15 competitively and needed the best trigger money could buy your choice was a single trigger referred to as "The Trigger" from Milazzo-Krieger. The Milazzo-Krieger was also the most popularly copied trigger to the point Milazzo the man behind the trigger gave up on the market. In 2015 a gentleman named Ron Albanese bought the patents from Milazzo and brought "The Trigger" back to life. Not content to leave well enough alone Mr Albanese improved the original trigger as well as introduced a few new models. 
By many reports the Milazzo-Krieger M-K IIA3 AR Trigger is made better and performs better than the expensive well known triggers that are available today which happen to be triggers that borrowed Milazzo's original design. The Milazzo-Krieger M-K IIA3 AR Trigger also happens to be less expensive. If you're in the market for the best and most adjustable AR trigger available today, do yourself a favor and try the Milazzo-Krieger M-K IIA3.
Click for more AR Triggers
Milazzo-Krieger Two Stage Tactical Match Trigger System For AR15 / M16 Family of firearms.
The Milazzo-Krieger M-K IIA3 AR-15 Trigger is geared to the person that knows what they want in a trigger. The M-K IIA3 AR Trigger is the most adjustable of all the M-K II trigger systems. You get an adjustable second stage release along with interchangeable disconnector springs used on all M-K II trigger systems, as well as a new safety selector which can be installed from the left or right side of the receiver. Inside the new selector is an adjusting screw that allows the user to set the overtravel to the absolute perfect distance for their style of shooting. Having the adjusting screw in the selector gives the added benefit of steel on steel positive overtravel stops. This is a more firm stop then steel on aluminum found on other triggers. Combine all that with the A2 style short reset disconnector and you have an extremely adjustable, high speed tactical trigger with crisp, clean and predictable National Match release of the M-K II. This makes the M-K IIA3 ideal for your match rifle or that new DMR you have been thinking about. Fits receivers that use the standard GI size 0.155 receiver pins.
All M-K II models include:
1 Hammer
1 Hammer Spring
1 Trigger Spring
1 Trigger Housing assembled with a blue 4.5 Lb. Medium Disconnector Spring.
1 Red 3.5 Lb Light Disconnector Spring
1 White 5.0 lb. Heavy Disconnector Spring
Actual pull weight will vary slightly due to receiver tolerances
(Disconnector springs are easily changed to the users preference.)
2 Hammer / Trigger Receiver Pins
1 Sample tube of Slip 2000 lubricant
Common Features Of All M-K II Trigger Models
Interchangeable disconnector springs
Adjustable second stage release point
Anti walk pins
M-K IIA3 Small Pin
Small pin (Standard) Will fit rifles in the AR15 family that require standard Mil-Spec 0.155 receiver pins.
For Information on the M-K II trigger system click on this link.