Drake ATHENA Semi Automatic Precision Chassis Rifle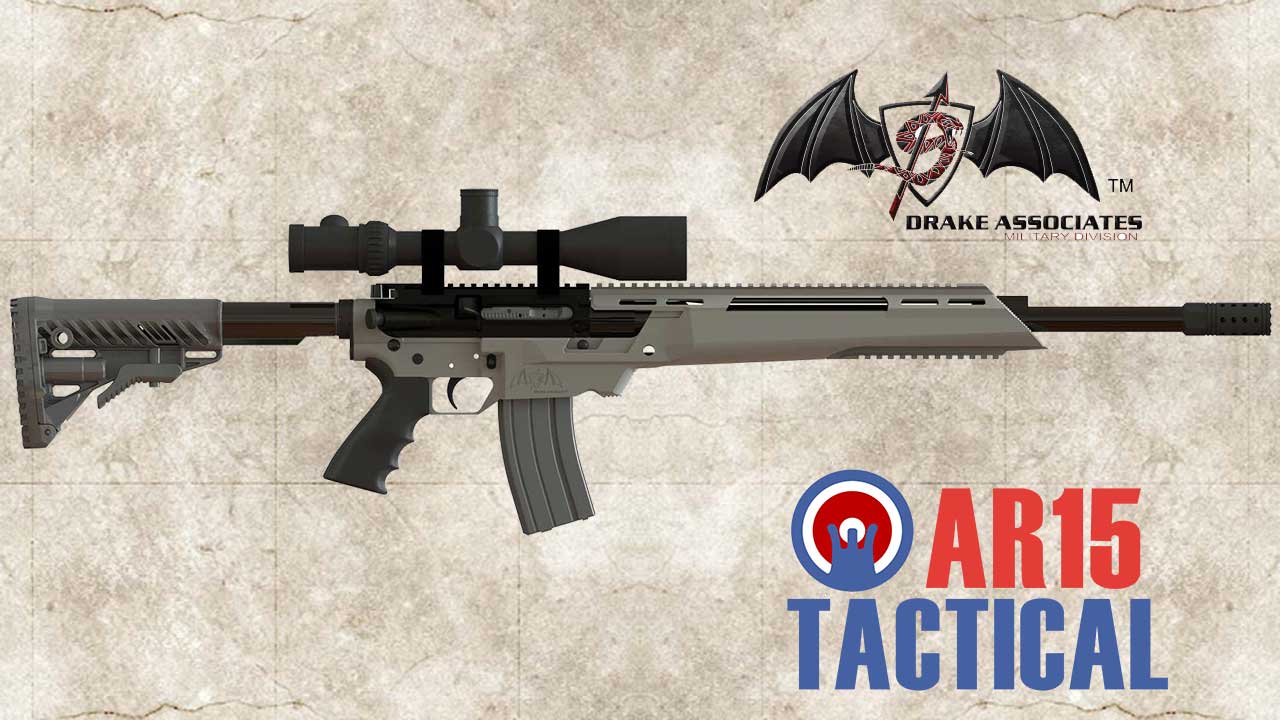 Drake ATHENA Semi Automatic Precision Chassis Rifle
The New patented Drake ATHENA Semi Automatic Chassis Rifle features a Drake high-performance button cut match barrel. This precision rifle was designed as a high-performance alternative to the military's M12 or Mk11/M110 program(s), with a similar mission profile that features high-performance options at an affordable price. The ability of the Drake Athena Semi-automatic Chassis Rifle to quickly adjust the ergonomics for the individual shooter without having to use tools further personalizes the high-end bolt action rifle. Available in Light Caliber and Heavy Caliber systems.
DRAKE ATHENA PRECISION CHASSIS RIFLE

Drake recommends the 18″ Heavy Barrel for your system as this was the barrel system that was used to validate the ATHENA platform to 1062 yards and make documented SUB MOA performance qualifications. Drake feels that this is the most versatile version of this weapon system.
Drake was able to achieve while using this Button Barrel an average of .6-.7 MOA with the best documented group on this rifle system at .366 MOA using Federal 77 gr. OTM Ammunition. Drake was also seeing bolt action like muzzle velocities averaging 2737 FPS with this ammunition.
DRAKE ATHENA TECHNICAL DETAILS – LIGHT CALIBER SYSTEM
Drake Athena Semi-Automatic Precision Chassis Rifle
Light Caliber System
Billet Aluminum Chassis Construction
SATERN Brand Match Barrel
1 in 7 Twist
Caliber/Barrel Options: 16″, 18″ 20″
Satern Button Drake Heavy Profile Contour Barrel
16″ Features Mid-Length Gas System
18″ and 20″ Features Rifle Length Gas System
SAAMI SPEC M16 Bolt Assembly
A3 Mil-Spec Upper Trued
Anodized Color Choice of FDE, OD or Black
Accuracy Truing
Match Competition 2 Stage Trigger
Drake Athena Rifle Chassis – Light Caliber System
Drake SOPMOD-D(TM) tool-less fast change forend
12 o'clock Long Picatinny Rail System Long Rail
6 o'clock front bipod Picatinny Rail System
M-Lok(TM) Compatible 11/1 O'Clock Rail System
Optional Secondary Rail System
Magpul (TM) 20rd magazine
A2 Birdcage Flash Hider
11 Degree target Crown
1/2×28 Precision Muzzle Thread
Commercial Packaging
MSRP $1776
DRAKE ATHENA TECHNICAL WEIGHT and MEASUREMENTS
Weight with 18" Heavy Barrel 9 Lbs.
Buttstock Collapsed OAL 34.75" with Length of Pull to Trigger 10.75"
Buttstock Fully Open OAL 37.75" with Length of Pull to Trigger 13.75"
Buttstock OAL Travel 3.0"
Cheek riser OAL Travel 1.3"
Height from Bottom of Pistol Grip to Top of A3 or Billet Upper Picatinny Rail 7.20"
Widest Width of Forend (Palm swell) 2.25"
Length of Forend Area Forward of Magazine Interior Leading front Wall 16.10"
Length of Forend Area Forward of Upper 15.50"Weights and dimensions based upon 18" Heavy Contour Rifle Barrel with Collapsible Butt Stock (Adjustable Cheek riser shown in images)
Other OAL Dimensions 16" 20" Rifle Barrel Versions
16" Barrel Version – Buttstock Collapsed OAL 32.75" with Length of Pull to Trigger 10.75", Buttstock Fully Open OAL 35.75" with Length of Pull to Trigger 13.75"
20" Barrel Version – Buttstock Collapsed OAL 34.75" with Length of Pull to Trigger 10.75" , Buttstock Fully Open OAL 37.75" with Length of Pull to Trigger 13.75"
ADDITIONAL INFORMATION
| | |
| --- | --- |
| Model | DRAKE Athena Light (Small Caliber 5.56 Family) |
| Color | Black, Flat Dark Earth, OD Green |
| Accessories | Birdcage |
| Athena Options | Athena 5.56 Black, 16" Barrel, Mid Length Gas, Athena 5.56 Black, 18" Barrel, Rifle Length Gas, Athena 5.56 Black, 20" Barrel, Rifle Length Gas, Athena 5.56 Flat Dark Earth, 16" Barrel, Mid Length Gas, Athena 5.56 Flat Dark Earth, 18" Barrel, Rifle Length Gas, Athena 5.56 Flat Dark Earth, 20" Barrel, Rifle Length Gas, Athena 5.56 Olive Drab, 16" Barrel, Mid Length Gas, Athena 5.56 Olive Drab, 18" Barrel, Rifle Length Gas, Athena 5.56 Olive Drab, 20" Barrel, Rifle Length Gas |