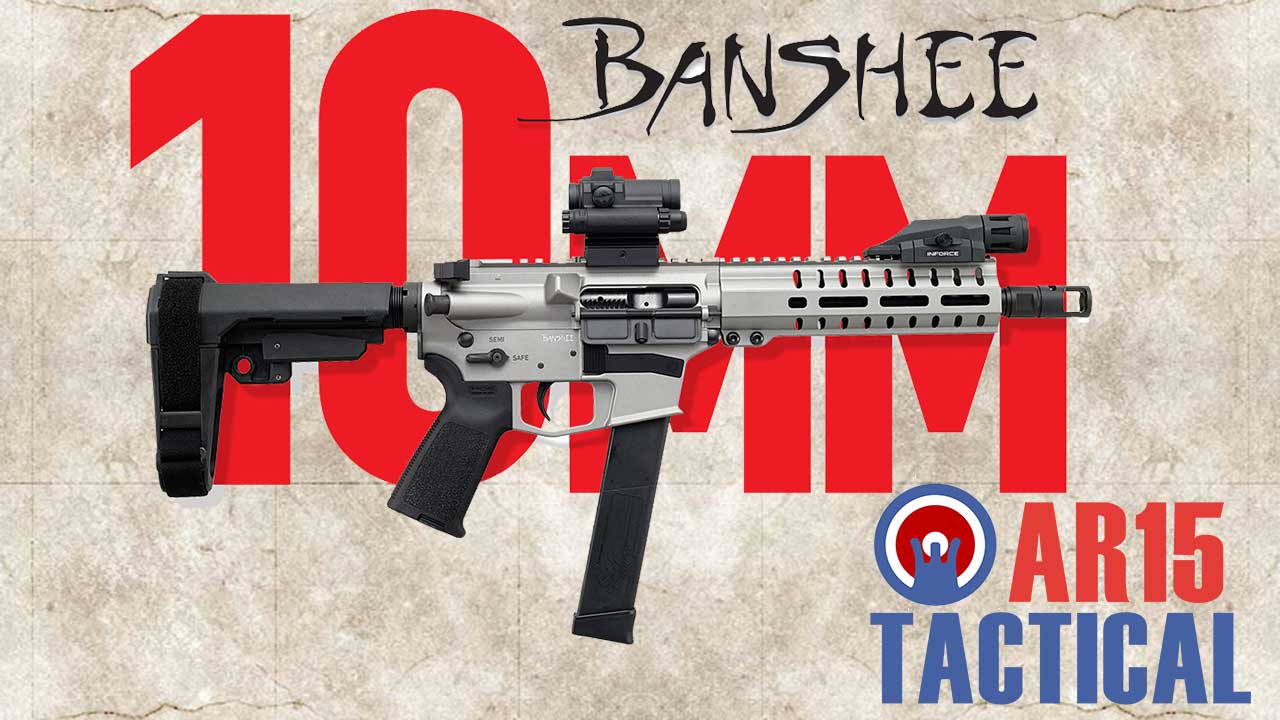 CMMG Banshee 10mm AR Pistol Caliber Carbine
CMMG's 10mm BANSHEE is the first AR capable of reliably running the wide assortment of 10mm ammunition on the market. It uses CMMG's patent pending Radial Delayed Blowback operating system to significantly reduce felt recoil. The 10mm BANSHEE ships with one 30-round SGM Magazine (Glock Magazine Compatible) and uses CMMG's patented bolt catch linkage to hold the bolt open after the last round.
The 10mm BANSHEE is available in Short Barreled Rifle (SBR) and AR pistol configurations. With a variety of different options and furniture to choose from, the BANSHEE 100, BANSHEE 200 and BANSHEE 300 series will have the right combination for you when concealment and portability matter the most.
Each 10mm BANSHEE comes with an H3 buffer and a 3.5oz tuning weight preinstalled in the carrier. A standard carbine buffer is also included in the box – ideal for those running lighter loads. For those planning to run the 10mm BANSHEE suppressed, check out our 8oz buffer (sold separately here) for additional tuning.
All BANSHEE 300 series firearms are the shortest configuration that we make in their respective caliber.
CMMG Banshee 10mm AR Pistol Caliber Carbine Technical Specifications

CALIBER: 10mm
BARREL: 8″, 1:16 twist, Medium Taper, 4140CM, SBN
MUZZLE: SV Brake, threaded .578-28
GAS PORT LOCATION: N/A
RECEIVER: Forged 7075-T6 AL Lower, Forged 7075-T6 AL Upper
HAND GUARD: CMMG RML7 M-Lok hand guard
FINISH: Cerakote Receivers, Hand Guard, and Ejection Port Cover (choice of 10 colors)
CHARGING HANDLE: CMMG Oversized Ambi
PISTOL GRIP: Magpul MOE
PISTOL BRACE: CMMG RipBrace with 6 Position Enhanced Receiver Extension and Ambi Sling Plate
TRIGGER: CMMG Single stage mil-spec style trigger
TRIGGER GUARD: Integrated Into Lower
SAFETY SELECTOR: CMMG Ambi
MAGAZINE: SGM 30rd Glock Magazine
WEIGHT: 5lbs 9oz(unloaded)
LENGTH: 24.3″(brace collapsed)
All products come with CMMG's Lifetime Quality Guarantee