Black Guns Wood AR 15 Wood Stock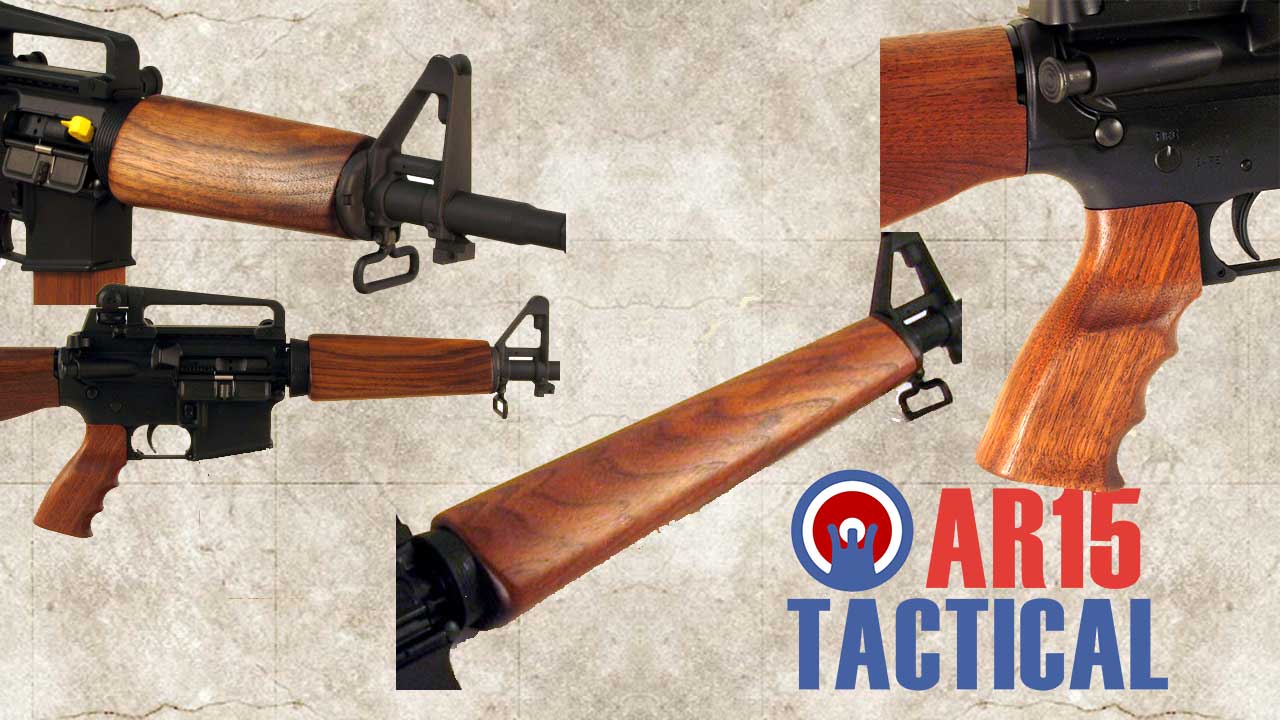 Black Guns Wood AR 15 Wood Handguards and Stocks
It seems the availability of AR-15 wooden handguards and stocks is unpredictable so in response to the constant emails I'm attempting to locate additional sources. The latest find is these walnut, hand rubbed oil finished sets from Black guns Wood. The examples look really nice.
The information below is directly from the manufacturers website. We have no affiliation with the manufacturer, please contact them directly for ordering information.
We manufacture and sell AR-15 wood stock components (buttstock, pistol grip, and hand guard).  We produce our wood stocks with premium grade walnut and apply a hand-rubbed oil finish (unfinished products are available by special order).  We believe that ours are the best products of this type on the market and at the best price.
Give your AR-15 rifle a traditional look using our premium walnut stock sets. These wood stock sets have a hand-rubbed oil finish (or available unfinished by special order). The buttstock is an A2 style. It fits a standard A2 length buffer tube with spacer.  The pistol grip has an ergonomic design.  We sell four different handguard styles:
Traditional 12″ triangular design
Mid-length triangular design
Carbine length round
Carbine length Triangular
Our AR-15 wood stock sets are proudly made in Valley Center, KS USA.  All surfaces on these wood stock sets that mate with your firearm are CNC machined to tight tolerances.  All other surfaces are hand shaped and sanded for superior feel and comfort.  These wood stock sets are completed with at least three coats of a hand-rubbed oil finish — this is not a sprayed-on plastic finish.  Our wood stock sets are made with the precision your firearm deserves and also with the comfort and feel beyond your expectations.
Complete AR 15 Wooden Furniture Sets
A2 Rifle Set – The complete AR-15 wood stock set includes the buttstock, pistol grip, and hand guard.  All bolts needed to assemble onto your rifle are included.  All parts are made of premium grade American Black Walnut.  

Each part is finished with a traditional hand-rubbed oil finish.

Mid-Length Set – The Mid-Length set is identical to the 12″ Rifle set except that it is made shorter to fit the standard mid-length barrel.
Carbine Set – A complete stock set for the Carbine is also available. This set includes a hand guard made to fit the standard carbine rifle.  We offer two hand guard versions – a standard round model and a traditional triangular model.
AR 15 Wooden Handguards
At this time we offer four different wood AR-15 handguards in three different lengths: 12″ rifle length, mid-length, and carbine length.  The 12″ rifle length and mid-length fit between the standard triangular cap on the front and the D-ring on the rear.  We have two Carbine length handguards (see pictures below).  Both fit between the standard round cap on the front and the D-ring on the rear.
For more information about our AR-15 wood furniture contact Gene Fields at 316-393-4434 or by email at gene@blackgunswood.com
Is your AR-15 Compatible with Our Components?
A2 Rifle – Our AR15 rifle set is designed to fit the AR15 rifle with a standard A2 length buttstock and with a 12 inch hand guard that mounts between a triangular cup and the delta ring.  Everything will fit with no modifications.
A1 Rifle – If your firearm has a standard A1 length buttstock then you have two options.  To fit our A2 buttstock will need to purchase an A2 buttstock spacer (Brownells item #430-000-455 or #231-000-155).  The other alternative is to special order an A1 length buttstock from us -we try to keep a few of these in stock.  Call Gene at 316-393-4434.  The pistol grip and handguard will fit with no modifications.
Carbine – The pistol grip fits directly.  Our carbine style handguard fits this type of firearm directly and mounts between a round cup and a delta ring. For the buttstock you will need to remove the collapsible stock and the receiver extension tube and replace these with a A2 rifle stock completion kit.  For example, Brownells item #080-000-554.  Refer to the following YouTube instructional video 
Mid-Length – We have a mid-length handguard.  It is triangular and similar to the A2 guard.  This mounts between a triangular cup and the delta ring.